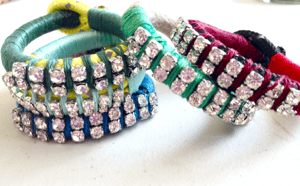 $

16.00
Extra! Extra. Double crystal strands make all the difference; making the sister of the original Diamond Time Bracelet doubly as extravagant.
Handmade friendship like bracelet with double the crystal action.
Materials:
+ Cotton
+ Rope
+ Small Faux Crystals
+ Silver Plated Hardware
Click on the picture for a bigger size. If you're feeling lucky (punk!) choose the **RANDOM option. Alternatively, you can also choose your own colours which you can email me about :)
All jewellery is handmade from locally sourced materials.