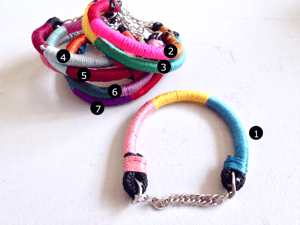 $

10.00
Handmade bracelet inspired by a horse shoe. Perfect for stacking up. Available in many combinations. Every piece is unique. Hopefully this piece will give you the luck to defend yourself from the Hex Me Nut Necklace.
These bracelets are pretty loose fitting. Fits small to medium wrist sizes. More sizes to come.
The colours you see in this picture are the options that are available. For the colour that you want, choose the corresponding number.
Or if you're feeling lucky (punk!) choose the **RANDOM option. Alternatively, you can also choose your own colours which you can email me :)
Materials:
+ Rope
+ Cotton
+ Silver Plated Hardware
All jewellery is handmade from locally sourced materials.