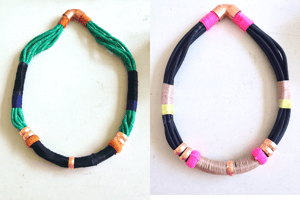 $

55.00
***Warning, only for the daring.
It is bold, it is bright and it is oh so pretty. Make a statement at any entrance with the Neon Tribe Necklace. A complicated twist of rope and cotton, fastened with rose gold-like hardware makes this piece a bold and unforgettable statement.
Materials:
+ Cotton
+ Rope
+ Copper Hardware
All jewellery is handmade from locally sourced materials.